Katherine Craddock / Guest Post
Speaker:

Screen Writing


Webinar, June 8, 2021

Find refuge, inspiration, rejuvenation in the day to day work.
That's where the joy lives and that's where stories take flight and become magic.
– Doc Pedrolie, New York Film Academy
I'm taking a break from folding laundry to give you a window into the screenwriter part of myself. I have six young children, so I do fourteen loads of laundry a week. I adore my children. But I'm not the best at folding laundry. Sometimes it lies in great piles and drifts around my house. Sometimes I can't find the jerseys for my kids' games. But more often than not, if I just keep plugging away at it, the laundry gets done, and the kids have clothes on their backs. And somewhere between loads of laundry and vats of pasta, I dream up stories and write them down, and miracles occur in the midst of the mundane.
I got the phone call from Final Draft that my screenplay, American Exodus, won the Big Break Action/Adventure category in the middle of cooking dinner, actually. I spooned up SpaghettiOs to clamoring kiddos, all the while trying to act calm and cool on the phone about the fact that I JUST WON A MAJOR SCREENWRITING AWARD!!!!!! (Note: I didn't say I was a GOOD cook – just that I was cooking.)
What I am good at, what I am really, really good at, is writing. It doesn't win me volunteer of the year awards at the PTA or accolades for Pinterest-worthy Baby Showers (I wish!). But when a fifth grade kid in a three piece suit marches up to your stroller on the school playground and extends his hand to shake hands with the "Hollywood Movie Writer" well gosh darn it, you know you did SOMETHING right. "Good luck with your movie, Mrs. Craddock!" he shouted after me as I hauled two squirmy, sticky preschoolers back to the car. "GOOD LUCK WITH YOUR MOVIE!!!!!!"
"I don't know how you do it all," is a common refrain. But the dirty truth is that I don't. Most days I don't write a lick. I just can't! When your kid has a broken leg, your baby needs to nurse, and your husband/friend/sibling/kid/business/job/school/church/sports team needs help with their life projects, you just physically CAN'T do it all.
But sometimes a story just crawls into your bones and you feel like if you don't write it before you die then you will be living a life unfulfilled. So you make it happen. You embrace the power of the AND. You read history books at the pool during swim lessons and watch documentaries and screenwriting DVDs for date night. You listen to Screenwriting podcasts on your way to soccer practice and type after midnight when the kids are asleep. You take UCLA's online screenwriting class while pregnant and even in labor and you FINISH THAT CLASS WITH YOUR NEWBORN STRAPPED TO YOUR CHEST, BY GUM! through the power of Jesus, a laptop mute button, and a Baby Bjorn.
And everyone tells you that you have to be 20 years old and live in LA and NOT have six kids and fourteen loads of laundry a week. But you ignore them, finish your laundry (and your screenplay), and gather the courage to click that SUBMIT button just one more time.
And then one day, one magical day, you get a life-changing phone call while cooking up cans of SpaghettiOs. And the caller ID says "Hollywood" and they ask you to pick out a red carpet dress for the Star-Studded Awards Show at Paramount Studios. And you ROCK that red carpet with a baby on your hip. Because for one night – for always –you are Cinderella, and you won't ever let circumstances get in the way of your dreams.
Here's the secret: what Hollywood needs, what we all need, are unique voices with unique stories from every walk of life. So don't ever listen to any voice that tells you that YOUR voice is not necessary or important. God gave you a lifesong to sing and there are men, women, and children all over the world that need to hear the stories and truths that thump inside your heart. So take that imperfect action. Scribble. Type. Learn. Reveal. And bless the world with the words you are called to share in whatever form you can share them.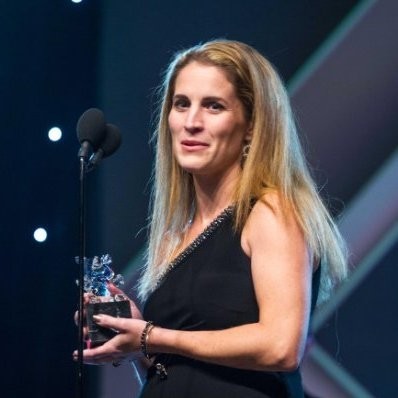 Katherine Craddock
Katherine Craddock Katherine Craddock is a multiple-award winning screenwriter whose screenplay AMERICAN EXODUS won Best Action/Adventure Feature in the Final Draft Big Break Screenwriting Contest , Movieguide's $50,000 Chronos Prize, and was a Nicholl Quarterfinalist, BlueCat Quarterfinalist, and Austin Film Festival Second Rounder.  Katherine has two award-winning produced faith-based screenplays – For the Glory  and Touched by Grace — and is a graduate of UCLA's Professional Program. She really does have six amazing children, and a smokin' hot, super accomplished trophy husband.
Follow her adventures at https://www.facebook.com/KatherineRCraddockScreenwriter/.