Telling the Truth: How to Write Narrative Nonfiction
With Dr. Craig von Buseck
Wednesday, September 14, 8-9 p.m. Eastern
CCWF members, see your email to register for this event. Nonmembers, you can attend for $10 by clicking here.
In "Telling the Truth: How to Write Narrative Nonfiction," Dr. Craig von Buseck will take us on a survey of narrative nonfiction and memoir examining these topics:
Why tell true stories
Which genre is right for your story
How to do historical research
Interviewing techniques
Plot and structure
Character and dialogue
Point of view
Writing from passion
The art of observation
Self-editing your work
Whether you write novels, devotionals, essays, articles, memoirs or general nonfiction, these techniques will enhance your storytelling.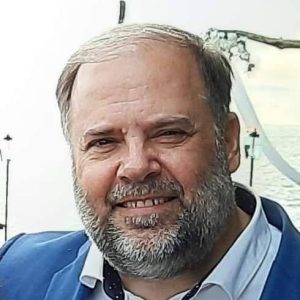 About Craig
From webcasts to television and radio, and from conferences and churches to boardrooms, Dr. Craig von Buseck has been in the public eye for more than 35 years. As a sought-after keynote speaker, he has spoken across the US and overseas. Craig is an award-winning, multi-published author and serves as a digital content manager for FocusontheFamily.com in Colorado Springs, Colorado. He is also a contributing writer for CBN.com, The Write Conversation Blog, MTL Magazine, and Charisma Magazine. He holds a doctor of ministry and an MA in journalism from Regent University.
Craig's biography, Victor! The Final Battle of Ulysses S. Grant, a biography of the last two years in Grant's life, won the Christian Market Book Award as the Nonfiction Book of the Year by the Advanced Writers and Speakers Association. His other recent books include a companion book, Forward! The Leadership Principles of Ulysses S. Grant and a teaching book, Walking in Faith: The Peter, Paul, and Mary Principle.
Craig's recent book, I Am Cyrus: Harry S. Truman and the Rebirth of Israel, won the prestigious Selah award for nonfiction, was a finalist for The Truman Award from the Harry S. Truman Presidential Library, and was a finalist for the Serious Writer Book of the Decade Award. Craig's other books include Nobody Knows: The Harry T. Burleigh Story, NetCasters: Using the Internet to Make Fishers of Men, Praying the News (co-written by 700 Club co-host Wendy Griffith) and Seven Keys to Hearing God's Voice.
Craig has extensive speaking experience and travels often to conferences, professional events, churches, and writer training meetings.
Connect w/Craig
Website: vonbuseck.com
Amazon Author Page: amazon.com/Craig-Von-Buseck/e/B001K8JB1U/ref=ntt_dp_epwbk_0
BookBub: bookbub.com/profile/craig-von-buseck
Facebook: facebook.com/craigvonbuseck
Instagram: instagram.com/buseckcraigvon/
MeWe: mewe.com/i/craigvon_buseck
Twitter: twitter.com/craigvonbuseck
YouTube: youtube.com/channel/UC4XngihXgoXse2Jrr4N5LpQ