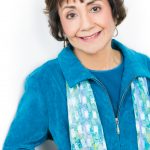 Yvonne Ortega walks with a small footprint but leaves a giant imprint in people's lives. This power-packed package is an international award-winning speaker and author of the Moving from Broken to Beautiful® Series through cancer, divorce, forgiveness and loss. See www.YvonneOrtega.com. She has taught writing classes at major conferences in the United States. Yvonne celebrates life at the beach, where she walks, builds sand castles, blows bubbles, and dances.
A Special Message from Yvonne Ortega
I'm a speaker who writes nonfiction. I enjoy story telling based on my life experiences and those of others.
Since elementary school, I've kept a journal and spent hours reading books. The highlight of my week was my Saturday visit to the library to check out as many books as I could.
In the eighth grade, I wrote a letter to the editor. My parents and I squealed with delight to find it published in our daily newspaper. Mom and Dad saw that "publication" as the beginning of my literary career.
In high school and college, I enjoyed writing research papers. I would go over them dozens of times to check grammar, spelling, and flow. Some high school students considered that strange for a teenager. However, my goal to become an English and foreign language teacher meant more than their opinion.
After a major life transition, my writing improved with groups for writers, critiques, and a mastermind group plus mentors.
When I went to the College of William & Mary for my second master's degree, I juggled classes and work. I wrote my research papers on addiction, anger, domestic violence, and similar subjects to go with my future career as a Licensed Professional Counselor.
Because of aggressive cancer treatment, taking the state exam for licensure as a counselor went on hold for eleven months.
During that time, I wrote a devotion daily for what became my first book, Hope for the Journey through Cancer. The publisher changed the cover and title in the second edition to Finding Hope for Your Journey through Breast Cancer.
Then an organization in Portugal signed a contract with Revell to publish that cancer book in Portuguese. I know no one in Portugal and don't speak Portuguese. Looking back, I wish I had gone to Portugal when the book came out. I might have learned Portuguese.
Because of my life experiences and clinical practice, I became interested in the difference between writing to heal and writing about trauma. That opened the door for me to facilitate a workshop on Writing to Heal at the Stowe Weekend of Hope in Vermont for cancer survivors and their families. A writing friend/cancer survivor and I flew to Vermont, rented a car, and went sight-seeing before and after the Stowe event.
As I continued to speak at singles conferences, domestic violence education and prevention sessions, cancer fund raisers, women's events, and writers conferences, one question stood out from the others: "Why don't you write a book about those topics?" I wasn't ready yet.
Almost five years later, I woke up early one morning and knew it was the day to start writing again. Within six weeks, I completed the rough draft of my second book, Moving from Broken to Beautiful: 9 Life Lessons to Help You Move Forward. After a hundred edits, I sent it to a professional editor and then to the publisher.
I thought that book would be my last, but as I wrote the chapter on forgiveness, I sensed the Lord's leading to write more on forgiveness. That led to my third book, Moving from Broken to Beautiful® through Forgiveness, which I could just as easily have named How to Forgive When You Don't Want to.
Those three books led to dozens of radio, TV, and online media interviews. One question from the interviewers and the audience hounded me: "When are you going to write a book about grief?"
"I can't" became my standard response. Then, God woke me up early and again, I sensed his leading, "This is the day."
I didn't have to ask, "The day for what, Lord?" It was the day to begin writing Moving from Broken to Beautiful® through Grief. During that marathon, my lifelong friend died, and Daddy received a diagnosis of dementia. Whatever I work on, God sends or "allows refresher training."
My monthly article on speaking tips for writers appears on Edie Melson's The Write Conversation and on Carol Kent's SpeakUp Conference Blog as tips for speakers, writers, and leaders. Only God.
Two works in progress are a book proposal on speaking tips for speakers, writers, and leaders and another on divorce.
My suitcase remains half-packed for speaking and writing events. I add appropriate clothes for the season, and off I go.
I look forward to being with you at the writers conference. Meanwhile, listen to God and embrace the adventure of a lifetime with him in charge.
Complete information for Prepare to Publish Conference