By Sarah Hamaker, CCWF President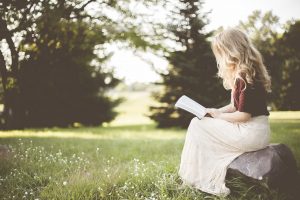 Lately, I've been thinking a lot about my ideal reader.
Who is she?
What does she like to do?
What does she read?
Where does she live?
What is her family life like?
What draws her to pick up a book?
What does she like to feel after reading a book?
I don't have the answers to those questions yet because I don't have a fiction book published (that's coming later this year!), but I do plan on filling in the answers based on who I think my ideal is now—and will correct those once I have actual readers to query.
Why am I concerned with who my ideal reader is? So that I can make sure all of my marketing efforts are targeting a specific person, rather than the entire reading world. If I'm spending precious writing time promoting my work, I want my marketing efforts to be as effective as possible. And for that, I need to know my ideal reader intimately.
As a parent coach, I've developed my ideal client. I know a lot about this ideal client. For example, I know that it's a mom who's married. She's a Christian and has multiple children. Her oldest child is still in elementary school. I know that her pain point is that one child is disrupting the household and it bothers her that she can't seem to reach this child's heart. She has read many parenting books, but doesn't know how to translate that into helping her be a better mom to her kids.
Why is it important for me to know who my ideal client is? Because that's the only person I'm focusing on when I write my blogs, post on social media, record a podcast, and send a newsletter. I'm thinking of her when I develop online courses. I keep her top-of-mind when I consider Facebook ads.
Could I meet the needs of any parent? Of course! But here's the secret to having an ideal client—or ideal reader—in mind when thinking of marketing: When you specifically target that ideal client, the cost of your service (or book) is no longer the first thing on their minds. In other words, when you market your book to everyone, you become a commodity to potential readers. And when you're a commodity, people view you first through the lens of cost.
I don't want to be a commodity as a parent coach or as a writer of romantic suspense. I want to connect with my ideal client and my ideal reader so that I can speak to their pain points and make a connection that will transcend the price point.
But it's hard to get out of the mindset that we can reach everyone with our writing, isn't it? While it's true I could help any parent, I find my greatest joy working with moms who are concerned about reaching their child's heart (my ideal client). That means I don't fight the marketing aspect as much because I'm thinking of my ideal client. That means I have a specific person in mind when I write blogs or marketing material.
I can't wait to fully develop my ideal reader so that I can keep her in mind when I write, when I develop content for my website, and when I think about marketing my book and connecting with readers. For now, I'll work on who I think she is, but one day soon, I'll meet her, and then the real marketing fun will begin.