What type of writing do you do? What inspired you to begin writing?
I write about praying and I write prayers. I write to bolster my memory. It is a little like writing a diary—I want to save my best thoughts about God so I can revisit them. I also want to say my best words to God over and over. I started when I first got married and it is wonderful to reread some of my old prayers. They are so full of previous stages of my life and show me how God answers. The practice has strengthened both my writing and my praying.
I also love to write letters. Letters roll right out of my heart onto the paper and seem to skip my head. For some reason, they don't seem to need revising. Perhaps it's because I know my audience and I have something to say to them before I begin. Letter-writing in a day of email and texting and Instagram might be a ministry, or it might simply be old-fashioned. I will never know how much others are impacted, but I know it has improved my writing.
I know my life is spinning out of control when I don't have time to write the letters which flow through me. I have taken to turning my letters, full of my blessing for my friends, into prayers.
I know letter-writing will never make me any money, though it bears fruit. One of my letters won my husband's heart, he says. Living in Port-au-Prince, Haiti, I watched a flash flood wash down a nearby ravine, as I sat on my covered porch. I could not stand what the deluge was doing to families who lived in the ravine, so I grabbed a sheet of paper and poured out my heart to Roger. Roger was captivated. Perhaps distress rendered me eloquent.
How often do you write? How do find time to write
There is a consistent flow of thought running through my mind. Sometimes I wonder if I am writing or if I am "being written" by the Holy Spirit. Unfortunately, much of my writing is done in the middle night and is washed away when I go back to sleep. It is a matter of capturing it and wrestling my thoughts down—sometimes they turn out to be as fleeting as dreams. Perhaps other writers have the same experience as me.
I regularly get up between 4 and 5 a.m. not long after my night-time writing session and write until other things demand my attention. It must be working, because after years, I'm finally getting out three books of Scriptural prayers: one on praising God, one on praying comprehensively, and one on praying for our children.
When do you bring in outside help?
I need help from day one. Most of all, I covet readers to give me objective feedback of my work. I am excited about the peer critique group that has begun. Although none of them has read my writing yet, I have been galvanized by the writing of my fellow authors.
What are you reading now?
I keep books by my recliner and read them when I have time. There are usually far more than I have time to read. Right now, these books are in my stack:
Uncommon Ground by Timothy Keller
What they Meant for Evil about a Sudanese Lost Girl
Unified by Trey Gaudy and Tim Scott about racial tension in America
Strength to Love by Martin Luther King. Jr. which is incredibly inspiring and challenging
The Journey to Camelot by Sarah Hamaker our CCWF's President. This book is excellent, a delightful break from real world demands and a refreshing breath of air.
What is your writing dream?
I want to bring some family history to life. My great-great-grandfather ran a station on the Underground Railroad in Ohio. His daughter, Mary, left some reflections about what growing up in his house was like. One of my prayers is that I will be an author worthy to tell her story. I am motivated by my newborn granddaughter. If I cannot complete this project, she may never discover her inheritance.
What would you most like to share with other Christian writers?
I would like to pass on a bit of advice I learned from Austin Comache, a publisher who visited Capital Christian Writers: Most writing is published too early. Don't be afraid to give your work time to mature. Put the finished product away for at least a month. Reread it and see if you have anything to add. Perhaps it is actually the writer—you and me—who matures in the interim.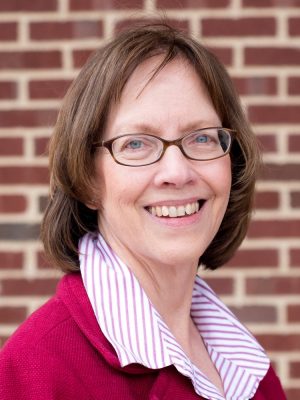 Betsey Kodat
Write, CCWF Prayer Coordinator
Betsey Kodat is wife to Roger, mother to Aimee and Emily, mother-in-law to Kody, and grandmother to Reagan. She has been expressing her prayers in writing for 35 years. Her prayers have been influenced by living in seven foreign countries. What power comes from observing firsthand different points of view. She has been involved with CCWF and its predecessors for over 18 years and is currently the Prayer Coordinator. If anyone would like prayer for their writing, please contact her at https://ccwritersfellowship.org/contact/.